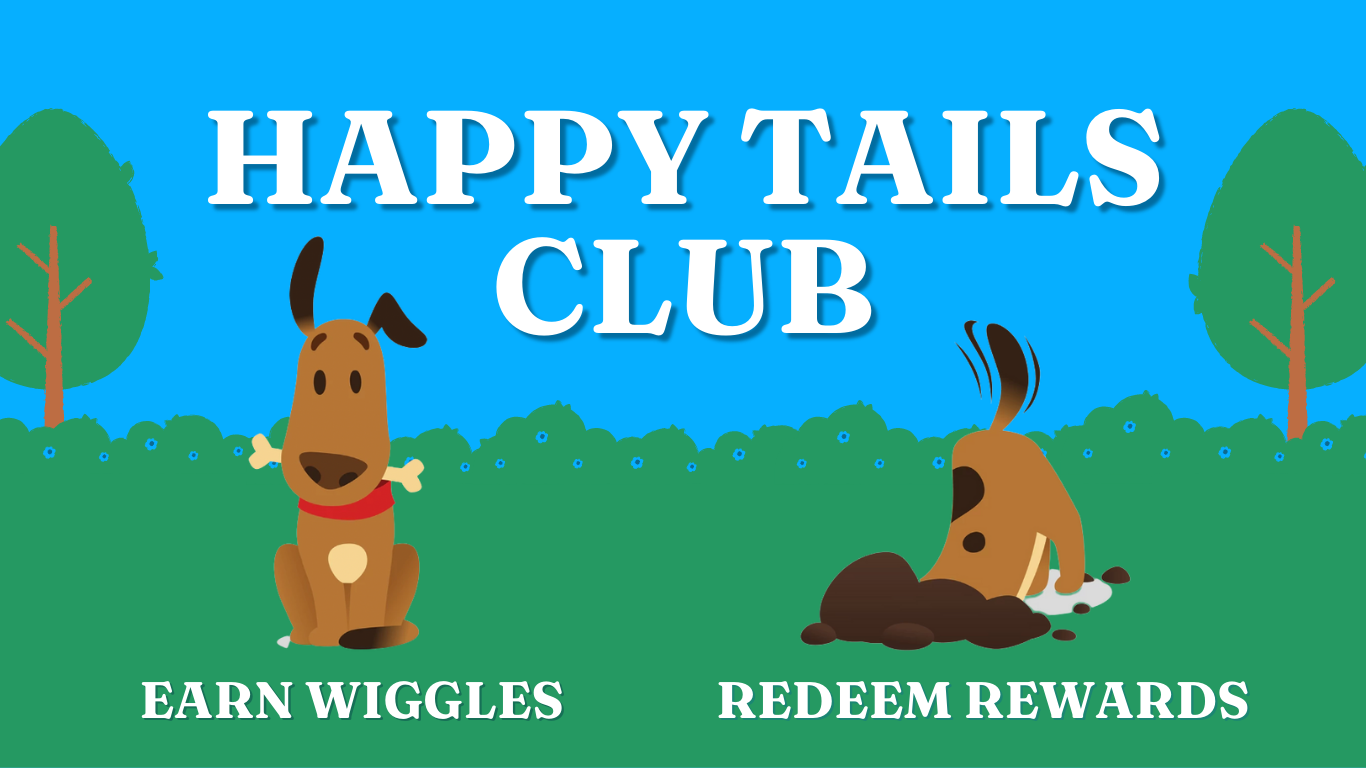 FAQ
What is Happy Tails Club?

Happy Tails Club is a loyalty program through which our customers (like you!) earn Wiggles for every purchase and do various tasks, such as following our social media accounts and referring friends and families. Your Wiggles unlock tier benefits and can be redeemed for rewards. This is another way to thank our customers and show how much we appreciate your loyalty.
How do I sign up for Happy Tails Club?

Register a Happy Tails Club account to receive exclusive discounts and offers by entering your information here: Create Your Account.
How do I earn points?

As a member of Happy Tails Club, you earn Wiggles for every $1 you purchase on qualifying products of Vital Pet Life. Points will be awarded to your account when your order is SHIPPED.
What are my redeemable Wiggles, and when do they expire?

Your redeemable Wiggles are the number you have available to redeem for rewards as part of the Happy Tails Club loyalty program. This number decreases with each reward you save and increases with each qualifying purchase at the Vital Pet Life website. To view your current redeemable Wiggles balance, visit your Happy Tails Club member dashboard or the Happy Tails Club landing page when logged into your Happy Tails Club account. Your redeemable points credit will expire if you do not make a qualifying purchase during the 12-month anniversary of your last purchase.
How do I advance to the next tier?

Your Happy Tails Club perks are determined by how many redeemable Wiggles you earn in any calendar year. Redeemable points accumulated in the previous calendar year do not contribute to your tier advancement in the current calendar year.
How do I redeem my points for coupon and product rewards, and how often can I redeem my points?

You can redeem your Wiggles for coupon rewards in your cart. When you save your Wiggles for coupon rewards in your cart, Vital Pet Life will automatically apply a discount to eligible items. You cannot combine Happy Tails Club rewards with other offers or discount codes. Happy Tails Club may, in its sole discretion, turn on and off loyalty coupons in the checkout during any promotions.
Can I combine my Happy Tails Club rewards with other offers or use them at other stores?

Happy Tails Club reward discounts cannot be combined with other offers. For example, if you use your Happy Tails Club redeemable Wiggles for 10% off the total price for the eligible items in your cart, you may not use another coupon in the same transaction. Similarly, suppose Vital Pet Life is running a promotional price on a product on our website. In that case, you cannot use your Vital Pet Life redeemable Wiggles for an additional discount on that product. 
Happy Tails Club reward discounts can only be used at vitalpetlife.com and cannot be combined with gift cards or store credit. The reward discounts cannot be used in-store with our retail partners.
How can I opt out of Happy Tails Club?

If you want to opt out of Happy Tails Club, please contact our customer service team or email us at hello@vitalpetlife.com